Does sleeping under a starry sky, waking up to chirping birds, and breathing fresh, crispy air sound like a dream to you? If it does, you're in luck, as we live in an era when you can reconnect with nature without having to compromise on comfort. No more lost hours trying to pitch your tent, dirty showers, or uncomfortable sleeping mats! Glamping offers you the ultimate adventurous trip, without the hustle!
So, what are the different types of glamping? Glamping refers to a glamorous way of camping and experiencing nature. The different types of glamping accommodations are: 
Tents – Yurts, tepees, safari tents, bell tents
Cabins – huts, barns, log cabins, A-frame cabins
Tree-houses – on the trunk, on stilts, suspended, forest floor
Pods, domes, and bubbles
Homes and mobile- airstreams, camper vans, tiny houses, cabooses
Luxury Glamping – villas, nature lodges 
Unusual Glamping – igloos, caves, hobbit houses
These options are all aimed at allowing you to enjoy the beauty of nature without the challenges of camping. Yet, each glamping option offers a diverse and unique experience that you won't live anywhere else. Let's have a look at the types of Glamping you can choose from and what to expect from each. You will be ready for your trip in a flash!
Types of Glamping
While the term "glamping" was created in 2005 and only made its way to the pages of our English dictionaries in 2016, "luxury tent living" is a lifestyle enjoyed in the West since the 16th-century by the Scottish royals. A modern take on such practices has given life to glamping as we know it today, a form of travel that is in continuous development and unlocks unique ways of retreating among nature. 
Today, there is an endless number of campsites and glamping areas where you can exploit your passion for outdoor activities and entertainment. While new glamping accommodation types are always growing, you can check out the following options to have an idea of what to expect from your trip!
Glamping Tents
Spacious, luxurious glamping tents are the original glamping accommodations, so it's no wonder why today you can find them in all shapes and sizes! 
Yurts
Yurts are round, wooden structures, collapsable and complete with fabric walls and ceilings. 
Traditionally used through Central Asia for centuries, yurts were originally designed to withstand the harsh winters of Mongolia and be easily relocated. Today, modern yurts are equipped with state-of-the-art materials and not intended to be moved regularly. With plumbing, heating, and contemporary furniture, modern yurts offer an all-year-round accommodation option for your exciting glamping holiday.
Safari Tents
Often used as the perfect location to admire the incredible wildlife of Africa going about their day, safari tents are the dream accommodation for any adventurous traveler that can't renounce a bit of luxury. These rectangular structures are often fitted with hardwood floors, separate rooms, sturdy walls, and, sometimes, even kitchens! Safari tents are truly a not-so-little home away from home in the middle of nature.
Teepee or Tipi
Tipis, or teepees, are conical wooden structures used for centuries by innumerable nomadic communities across Europe, Asia, and America. Originally made out of animal skin, modern canvas-covered Tepees have evolved to be the glamping accommodation of choice for anybody looking at living vis-a-vis with nature for longer and in comfort. They are also an intriguing and exciting alternative to your classic Quechua tent!
Glamping Bell Tents
One of the most popular choices for camping aficionados are Bell tents. These iconic accommodation options are extremely common and can be found equipped with all sorts of home comforts. From bare tents to house-like lodges, Bell tents are spacious, versatile, and unfailingly cozy! 
Glamping Cabins
Log Cabins
Dreaming of spending your glamping holiday in a remote Alpine village sipping mulled wine while gazing at snow-capped mountains? There is no better accommodation than a tucked-away log cabin. You can find great log cabins around the world in all shapes and sizes. What to expect? A crackling fireplace and stunning views are always around the corner.
A-Frame Cabins
These small yet luxurious glamping options offer the perfect mix between comfort and tent living feel. Smaller A-Frame cabins only include a comfortable bed, while some of the most high-end options will boast a patio and large windows to enjoy the surroundings while indoors.
Huts and barns
Once the favorite overnight stays of hitchhikers and backpackers, the idea of barns and huts has today been revamped. While maintaining their primitive or rural feel, renovated barns and huts have become a luxurious glamping option that allows you to live and merge with the surrounding landscape in a unique way.
Tree-houses
Staying in a wooden treehouse hidden in a forest is not only a kid's dream! Any adventurous traveler has at least once fantasized about living in a tree-house. Well, glamping offers you the option to fulfill your lifelong dream! Tree-houses have been in continuous evolution in the past years and today there is an endless choice worldwide. In a treehouse, you can reconnect with nature, yet enjoy all the facilities you are used to. 
After a refreshing hike, climb up the wooden ladder to enjoy a kitchen, cozy living room, and, sometimes, even a bar with a view! Some of the most spectacular treehouses are:
On the tree trunk
On stilts
Suspended
Forest floor – Ground level constructions
Pods, Domes, and Bubbles
These self-contained, compact glamping options can seem simple at first. However, especially in this case, the location really matters! Whether you are looking at enjoying the Aurora Borealis dancing across the Arctic Sky from the comfort of your bed, or experience a deep connection with the surrounding forest, geodesic domes and see-through bubbles have become the ultimate choice for glamping in the past years. 
Best of all, pods, domes, and bubbles are the sophisticated and spectacular response of the glamping industry to the travelers' needs for more sustainable accommodation options. If you are looking at embarking on a sustainable trip, read more about your options in the "Glamping and Sustainability" section of this article.
Mobile Options and Homes
Airstreams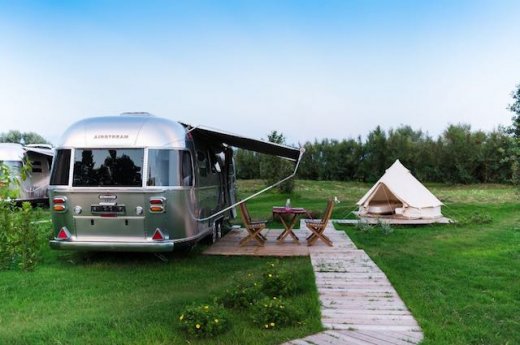 Shiny, vintage, and undeniably cool, Airstreams have come back! Created in the 1930s, these trailers are the symbol of an era of travelers and have just crawled their way back into our hearts. However, not without some little improvements that have made them the glamping choice of many Millennials. Airstream trailers are today trendy and highly functional, often including every-day comforts such as kitchens, bathrooms and showers, and even a living room.
Campervans and Caravans
Campervans and caravans are perhaps the most popular choices for camping for families and groups of friends. Yet, forget about the poorly designed, all-beige trailers that were trendy during the 80s and 90s. 
As with many other industries, Millennials have their own opinion of glamping with a caravan and, as a result, today you can see funky vans shooting through countryside streets. Made for being social, these vans are great if you enjoy sharing stories around a campfire!
Tiny Houses
Leave behind the concept that bigger is better and check-in in your spectacular tiny house! Built in less than 400 square feet, tiny houses are today the most sought after glamping destinations, especially for a romantic getaway! Furnished with kitchenettes, living room, bathrooms with showers, and at least a bedroom, these independent structures allow you to live a chic life while among nature.
Cabooses
While originally attached at the back of a freight train, Cabooses were used as the accommodation, office, or cooking carriages. Painted, renovated, and revamped, today cabooses are the most unusual glamping accommodation. If you like trains, there is a caboose for you in Australia, the US, England, and even Spain!
Luxury Glamping
While not strictly falling under the term "glamping", luxury accommodation options in the middle of nature have become increasingly popular. This is because they offer a suitable alternative for families and groups of friends to have fun, take up a new hobby, or even go hiking without having to book a hotel in an overcrowded holiday destination. 
At the same time, luxury glamping accommodations are great if you don't feel comfortable in any of the above options but you don't want to renounce living a step away from the wilderness for a few days. These glamping options often include swimming pools, spas, massage services, yoga sessions, and they might even include a gym!
The best luxury camping options are:
Nature Lodges
Villas
Boats
Designer Rentals
Beach Houses
Floating Homes
Experience-specific Glamping Types
One of the best things about glamping is that it allows you to get a unique perspective over a destination. For example, there is no better way to admire the Northern Lights than from a purposely-built Aurora Bubble. Let's have a look at other alternative glamping options you can't miss out on!
Igloos
Up for the ultimate winter wonderland experience? Staying in an Igloo is today possible in many regions around the world but, needless to say, it is going to be cold! Igloo glamping can be a great base to explore remote locations in Iceland, Norway, Canada, Alaska, and many more countries. Don't worry too much about the freezing temperatures! Made with insulating compact snow, Igloos will guarantee you to have a fairly cozy night's sleep. 
Caves
Located within some of the most scenic landscapes of Africa, America, and Europe, glamping caves are one of the newest additions to the many glamping options. 
While you could be a little skeptical while booking a stay in a cave, these accommodations are furnished to be not only welcoming but also luxurious. Don't be surprised to discover a private swimming pool or a spa. If you want the real experience though, some caves in historical sites in Andalusia and Australia come bare and without electricity!
Hobbit Houses
Inspired by the magical land of "The Lord of the Rings", Hobbit Houses have become a dream destination for both Tolkien fans and not. These hobbit dwellings also offer you the best point of you to explore the nature of Quebec, New Zealand, Ireland, and even Iceland. Warming in winter and refreshing in summer, these perfectly-built miniature houses are a great option for your glamping trip all year round!
What to Expect From Your Glamping Trip
Your glamping experience can be incredibly varied depending on the accommodation option you have decided on. Of course, if you have opted for a luxury nature lodge, there is not much for you to worry about aside from bringing bug spray for your hiking days. However, if you have booked yourself in the Teepee of your dreams, no matter how luxurious that is, there are a few factors to consider to enjoy the best glamping trip.
Amenities And Equipment
If this is your first glamping trip, you are probably wondering how to prepare for it. If you are using this holiday as a soft approach to camping, you will be pleased to know that you won't need to spend hours trying to pitch your tent. Yet, you should consider another option if you can't renounce room service and solid walls.
What's already there
Firstly, let's have a look at what you should not worry about while glamping: 
Bringing a tent
While some regular camping spaces require you to bring your own tent or mobile home, when you go glamping your accommodation will be included 90% of the time and the set up is already done.
Electricity and Wifi
Most of the glamping sites, spaces, and pods are equipped with electrics plugs and charging points so you can use your laptop, phone, tablet, and e-reader throughout your stay. Regarding the WiFi, you should check with your host before or after booking as not all the facilities provide this service yet.
Pots, pans, and cooking utensils
This is where glamping truly is much more pleasant than regular camping! You won't need to carry along pans, pots, utensils or camping stoves, as often glamping sites are complete with great cooking facilities.
Bathrooms and shower facilities
While their quality varies depending on the type of accommodation you have chosen, they are often much cleaner and in better conditions than regular camping sites. If you are staying in a tiny house, Airstream, or nature lodge, you will also be able to enjoy private facilities.
What to bring
While glamping locations provide you with much of what you'll need, they don't provide everything. Here's a list of the essentials you'll still need to bring with you to ensure your trip is comfortable and safe:
Appropriate clothing
Glamping is a much more comfortable version of camping, but you will still be exposed to the elements. While glamping is all about stepping from your bedroom into the unspoiled surrounding wilderness, this type of vacation can bring scorching mornings, freezing evenings, and rainy afternoons. Bring enough clothes to be warm at night, different layers, and don't forget waterproof jackets and boots!
A torch and matches
Most glamping sites will provide woods to light up your own campfire in the dedicated fire pits. Bring matches and get ready to tell ghost stories and enjoy those marshmallows! A torch, on the other hand, is always handy if you are looking for the bathroom after sunset!
Insect repellant
Even if you have secured your place in an upscale, pristine Safari Tent, chances are that the occasional bug will try to crawl on your bed and mosquitoes will pay you a visit overnight. In subtropical continents, a mosquito net is a must-have, regardless of where you are glamping or on the type of accommodation you have picked. Moreover, bug spray is recommended all year round!
Food and supplies
Even if your glamping site is perfectly equipped with a state-of-the-art kitchen, this does not mean that you should not bring your own supplies. More importantly, camping and glamping sites are often located away from the city center, among nature. 
This might make it a challenge for you to buy food and drinks, as the nearest shop can be quite a few kilometers away. Bringing supplies with you can guarantee you to have a few stress-free days and enough time to figure out where the shop is and which is the best route to follow to get there.
Prices
As you might have guessed by now, glamping can be much more expensive than regular camping. Obviously this largely depends on the type of glamping you are looking at experiencing. While standard A-Frame cabins can be found for $10 in Vietnam, a night in an exclusive Igloo or Bubble can cost up to $3,000. 
Yet, regular camping is cheaper than an average glamping accommodation only if you are planning on using your equipment many times. In fact, if you have invested quite a large capital on a tend, sleeping bags, mats, pillows, cooking utensils, torches, etc., you will have to plan at least 3 camping trips a year to make up for the cost.
The beauty of glamping is that it allows you to pick your next destination and switch up from a tent to a tiny house, a Yurt, or Airstream without having to invest or buy all the camping material. This hustle-free solution can seem more expensive at first but, by booking in advance and avoiding high-end options, it can work out a lot cheaper and offer you more freedom of choice.
What Is The Best Glamping Type For You?
The best glamping type for you depends on 5 factors: 
Budget
Party
Destination
Accessibility
Your personal preferences
While glamping can be cheap, often the real objective of an outdoor holiday is to experience something outside of the ordinary, which might be worth spending a couple of extra pence on. However, you should first check what are the camping sites near you and cut on the cost of fuel. Once there, you can spend a little more on the excursions you have always wanted to do.
Who you travel with is just as important. For a romantic getaway, a tiny house, hobbit dwelling, teepee tent, or glass dome are by far the greatest alternatives. However, if you are on the road with your whole family, your little ones might not enjoy the limited space of a 2-people pod. The best family glamping options out there are Safari tents, Yurts, nature lodges, villas, treehouses, and even bell tents.
Your destination, accessibility, and personal preferences will help you decide on the glamping style that is right for you. In fact, you will hardly find an Igloo near the Maasai Mara in Africa, and a safari tent is definitely not an appropriate choice for a visit to Alaska. Research your destination properly before booking a glamping holiday!
Best Glamping Destinations
Glamping sites can be found across the world today. However, there are some destinations that keep capturing the hearts and souls of adventurous travelers and can be lived at their fullest only through a glamping holiday. Read on to get some inspiration for some glamping destinations to add to your bucket list.
Bali, Indonesia
Plant-based and hippie Ubud, right in the center of southern Bali, does not let us down here! Head to the Indonesian capital of yoga for the ultimate treehouse experience.
Mara Region, Tanzania
Encompassing the spectacular Serengeti National Park, Tanzania is world-famous for its Safari opportunities. Head here to enjoy your Safari Tent while getting face-to-face with elephants, zebras, and giraffes.
Tulum, Mexico
Looking at glamping a step away from the crystal clear water of the Caribbean Sea? Head to Tulum to find the bamboo beach hut of your dreams.
This article is owned by Recapture Nature and was first published on February 29, 2020
Norway, Lapland, Iceland
If you are traveling to one of these countries to fulfill your lifelong dream of admiring the Northern Lights, don't hold back! A glamping trip is definitely the best choice. And you can pick between eco-pods, domes, and Aurora Bubbles. If you did not make it in time and they are fully booked, head to one of the nearby Sami Camp to find a fire-lit hut or Teepee waiting for you!
Australia
Whether you are in the heart of Australia by Uluru or along the Great Ocean Road, glamping is a big part of the camping life in this country. With incredible natural wonders and coastlines, Australia won't ever leave you short of a new glamping type to try out.
Sahara Desert, Morocco
Sweet hot mint tea, golden dunes, tagines, and camel rides at sunset are more your thing? Head to Morocco! The Bedouin camps near Merzouga will take you through the wonders of the most fascinating Arabian nights!
The Best Season For Glamping
While helping you reconnect with nature, glamping offers you a little more protection against weather conditions. Even though you might still be slightly exposed to the elements, there are some aspects of glamping that can be enjoyed all year round.
Spring
Spring is one of the most pleasant seasons for glamping, especially in Europe and America. However, precipitations during this time of the year are not uncommon, so don't forget your waterproof jacket and boots. At the same time, during spring, temperatures are mild and nature is in full bloom!
Summer
Most of your glamping accommodation won't have A/C. This makes summer a particularly hot period of the year for any of your outdoor activities. Yet, if you are planning on glamping by the beach or lake, you might have just found the perfect season!
Autumn
Autumn, similarly to spring, brings milder temperatures and increased chances of rainfalls. At this time of the year, however, you can enjoy unique hues and colors from your private treehouse!
Winter
You might need more than just a tent to enjoy glamping in winter. Yet, by booking yourself in an Igloo, bubble, or pod, you can experience some of the best natural phenomena out there. Alternatively, retreat to a log cabin to sip on your hot chocolate in complete relaxation! 
Glamping and Sustainability
With a climate emergency on our doorstep, the glamping industry was called to  respond promptly to the increasing demand for eco-conscious, environment-friendly accommodation options. 
This "Green Pressure" on the hospitality industry has given birth to eco-friendly pods. These are usually self-contained accommodation options that work in perfect harmony with the surrounding nature.
This article is owned by Recapture Nature and was first published on February 29, 2020
Eco-Pods, along with some tiny houses, treehouses, nature lodges, and domes, have a low ecological footprint and boast incredibly energy-efficient systems. While such trends are still under development, the demand for these kinds of accommodations is continuously higher. 
However, no need to worry just yet! There are no compromises on the luxury or comfort of your glamping accommodation, even if this is completely sustainable! Making such a choice, even if it can be a little more expensive, will guarantee you to do something great for both you and the planet!
When booking your trip, check out the eco-friendly glamping sites around you and use search engines such as Ecobnb and Ecosia to book your accommodation!
Conclusion
There is a different type of glamping for everybody out there! Whether you need a large Safari tent to fit your many family members, a tiny hut to share with your pet, or looking for the perfect romantic getaway at the doorstep of nature, a glamping trip will be the perfect solution.
You can pick one out of many options: safari tents, teepee tents, log cabins, treehouses, tiny houses, huts, beach houses, igloos, and even hobbit houses! These many types of glamping make it the perfect vacation to be enjoyed throughout the year and anywhere in the world.
This article is owned by Recapture Nature and was first published on February 29, 2020
While it can represent a pricier alternative than regular camping, glamping will offer you a point of view on the surrounding nature that you would not be able to enjoy otherwise.