They don't call Pikes Peak "America's Mountain" for nothing. Famous for its irresistible natural grandeur, it's the most popular peak in all of North America, drawing over 400,000 visitors a year. 
With an impressive elevation of 14,115 feet, the drive up to Pikes Peak lets you encounter some of the world's most awe-inspiring scenery. Whether you want a quiet family escapade or an adventurous road trip, you'll find what you're looking for as you snake your way through this alpine paradise.
From soaking up the spectacular views to fishing, there are plenty of awesome things to do as you ascend to the 14,115-feet summit. While it's just a two to four drive, it will nonetheless provide be one you never forget. 
Things to see on the Pikes Peak Highway
There's no shortage of spectacular sights and exciting things to do on your way to the top of Pikes Peak. Here are some of the must-do activities and must-visit locations on your 19 mile journey.
Drive up to the summit
There's no better way to experience the majestic beauty of Colorado Springs than to take the paved road to the very top of Pikes Peak. Depending on how many breaks and stops you make on your way, the drive can take up to four hours. 
On clear days, you can see five American states from the upper portions of the highway – Kansas, Utah, New Mexico, Arizona and Colorado. 
Before making your way to the summit, keep in mind that this high altitude trek is not a great idea for those who are scared of heights. 
Visit The Pikes Peak Summit house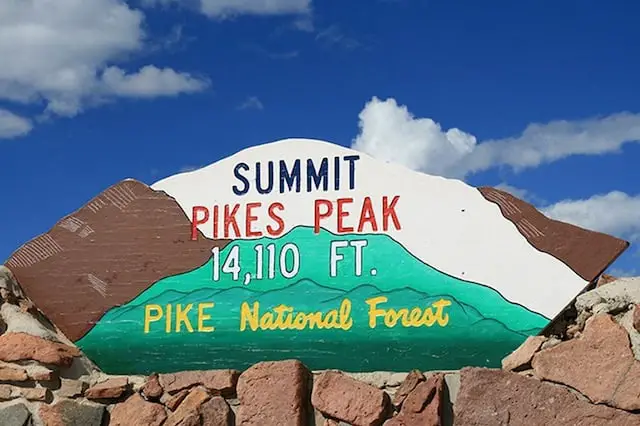 When you get to the top of the mountain, I recommend checking out the Pikes Peak Summit House ‒ a one-of-a-kind shop with mountain-themed souvenirs and gifts. The Summit House also offers a smorgasbord of food, including sandwiches, salads and other side dishes. A must try here is the world-famous crispy cake doughnut. These donuts are famous because they're the only donuts in the world that are made at an elevation higher than 14,000 feet. 
Spot some wildlife along the picture-perfect journey
Pikes Peak is a prime spot for wildlife viewing. On your way up to the top, you'll likely get a glimpse of a variety of animals, including coyotes, pika, marmots, mountain lions, deer, bear and bighorn sheep.
Enjoy a picnic at Crystal Reservoir
Take in the cool crisp mountain air and savor the stunning mountainous backdrop as you enjoy a picnic at Crystal Reservoir. Here, you'll find tons of great picnic spots that are available on a first-come, first-served basis. There are also gift shops, bathrooms and other cool amenities available at the picturesque Crystal Reservoir.
Snap a bunch of postcard-worthy photographs
The drive up Pikes Peak offers a multitude of photography opportunities. From rocky terrains and smoky mountains to lush pines and gorgeous alpine lakes, photographers will have a field day with all of the picture opportunities. 
One of the best lookout spots on the highway is at the 10.5 mile marker, where you'll get some incredible views of Mount Evans, Mount Princeton and Tarryall Mountains.
Wine tastings
Fond of delicious wines? Visit the two wineries in the region – the Wines of Colorado and The Winery at Pikes Peak. Not only do these wineries offer a wide array of wines, they also have extraordinary tasting rooms filled with gourmet treats. As an added bonus, these wineries also have a beautiful setting for sipping, thanks to the open patio and indoor seating.  
Backcountry skiing
Looking for a heart-pumping adventure? You might want to try backcountry skiing on your way to the summit of Pikes Peak. At the 11.5 mile marker, snowboarders and skiers can hop out of the car and experience some pristine and untouched terrain that includes chutes, bowls and endless trees. Backcountry skiers can also access the Cornice Bowl from the parking lot of the Devil's Playground.
A word of advice ‒ make sure that you have some backcountry experience before you attempt this dangerous and high-risk outdoor sport. There have been some fatal accidents in the Pikes Peak wilderness, so use extreme caution if partaking in this activity. 
Check out the Devil's Playground
Located near the 16 mile marker, the Devil's Playground is a beautiful spot with breathtaking views. You can spend hours at this stop admiring the panoramas and snapping a plethora of photographs.
Fishing
Pack your fishing pole and make your way to one of the designated fishing areas in the region. Visitors to the Pikes Peak area can fish for brook trout, cutthroat, lake, and rainbow fish at three different locations: the North and South Catamount Reservoirs and the Crystal Reservoir.
If you do want to go fishing, there are a few things you need to be aware of:
Gas motors are not allowed on these reservoirs You can use canoes, belly boats and other types of small boats though. 

If you do want to go fishing, you'll need to obtain a Colorado fishing license.

Artificial lures and flies are prohibited at the North Catamount fishing spot.
Experience the "Meet the Ranger" program
A great and exciting way to learn more about the peak is to experience the "Meet the Ranger" program. By taking part in this interpretive experience, you get to learn more about the fauna, flora, myths, and history of the mountain. 
Hike to the summit
If you're up for a challenging hike, you should add the Barr Trail to your list of things to do on drive up to Pikes Peak. With an elevation gain of over 7,800 feet, this hike isn't exactly a walk in the park ‒ but those who are brave enough to attempt this trek will be rewarded with magnificent views of the nearby city.
What to bring on your Pikes Peak drive
If you're not sure what to bring on your drive up to Pikes Peak drive, you can use this checklist to make your trip more enjoyable.
Fuel up
Surprisingly, there isn't a single gas station along the Pikes Peak Highway. So make sure that you have a full gas tank before starting your drive. Although a round-trip trip is only about 40 miles long, you'll likely use more than a half a tank of gas ‒ so fill it up to the top, especially if you've got a smaller tank. 
Bring a lot of water
Traveling at a higher altitude can dehydrate you. Without regular sips of water, you can get start to get lightheaded ‒ especially when you're gaining elevation rather rapidly. As such, you need to bring a few liters of water for each person in the car.
There are places to buy concessions and drinks along the way ‒ but it never hurts to bring some water. It will help you save money, leaving more room in your wallet for gifts at the shop at the top of the mountain. 
Wear a good pair of shoes
Flip-flops are a bad idea when driving up Pikes Peak. Sure, they may be comfortable ‒ but they aren't ideal if you want to get out of the car and explore the rugged terrain of the mountain. For a hassle-free trip, wear a good pair of shoes. Better yet, wear hiking boots if you plan to spend some time walking around the overlook spots. 
Pack a jacket
Always carry a jacket or a sweater, even if you're visiting in the summer months. On average, the temperature is around 30 degrees cooler at the summit than it is at the base. It may be sunny and warm in Colorado Springs, but it will be surprisingly cold once you reach the top.
Wear layers
In addition to the jacket, you should also wear a few layers of warm clothing. 
Wicking and wool material is ideal, as it dries out quickly compared to cotton. In addition, you should pack gloves, sunglasses, an umbrella, and a hat ‒ no matter the season. 
To keep your feet both dry and warm, wear a layer of wool socks over wicking socks.
A good camera
Don't waste those spectacular sights with a mediocre camera! Bring a solid camera that will perfectly capture the unrivaled natural beauty of Pikes Peak.
Snacks
What's a road adventure without snacks and treats? Not only will it make your trip more pleasurable, but it's also a good idea to have snacks on hand ‒ especially if you don't handle altitude change well.
Other things you may want to bring on your drive
A box of matches (for hikers)

First aid kit

Flashlight (for hikers)

Compass (for hikers)

Multi-purpose knife (for hikers)

Sunscreen
Pikes Peak driving tips
On top of everything else, here are a couple of extra tips related to your car:
Check your car's condition and see if it can handle the drive up Pikes Peak. There are narrow winding roads and steep grades, which makes it a horrible place for a car breakdown.

Most new car models also have a simulated manual mode designed specifically for driving mountains. When you first get the car, ask the rental company how to activate this feature.
Potential restrictions
Pikes Peak is generally a safe and family-friendly destination. However, there still might be some complications to deal with. 
Altitude sickness
Other symptoms of altitude sickness include impaired judgment, nausea, poor appetite and headache. If you start to feel these symptoms, retreat to a lower altitude and start drinking plenty of fluids.
If you aren't acclimated to the high altitudes, you're bound to feel some of the effects. The air at the summit is thin, and only holds around 60 percent of the oxygen your body is accustomed to. You might feel dizzy a few minutes after getting out of the car ‒ this is a clear sign of altitude sickness.
Fortunately, there are ways to prevent or reduce the effects of altitude sickness. Here are some tips for avoiding altitude sickness on your drive up to Pikes Peak.
Spend a day or two in Colorado Springs or Denver to get yourself acclimated to the higher altitude.

Avoid alcohol for at least a couple of days prior to your drive.
Keep hydrated throughout the day. 

Avoid unnecessary physical exertion and conserve your oxygen, especially at the highest altitudes.
Brake problems
The steep grade of the highway can be hard on your brakes, so be extra gentle when braking on your way down. I recommend putting your car in its lowest gear and hitting the brakes as you go. 
Do not apply pressure to your car's brakes the whole way down. Remember, it's a long and challenging drive down from the summit to Colorado Springs, and you really don't want your brakes to overheat or fail. 
If you're concerned about your braking capabilities, there's a station at Glen Cove where you can have a ranger check your brakes.
Engine overheating
A 39-mile round trip drive might not seem particularly long. But with the highway's steep roads and seemingly never-ending uphill drive, there's a possibility that your engine will overheat. 
Luckily, there are a couple of ways to prevent this problem.
For one, avoid using your air conditioner, as it can make your engine overheat. If you're hot, you can roll down the windows and let the fresh mountain air cool you down. 
You can also prevent overheating by driving short level stretches and easy grades in intermediate gears.
Road accidents
The Pikes Peak Highway has a history or road accidents ‒  and unfortunately, many of them are fatal. Most of these accidents do happen during races, but there's always the possibility for one whenever you're in a car. 
As long as you're not speeding up the mountain, the risk of an accident is extremely low, as the road is well-maintained, paved, and quite wide.
Weather problems
Before driving up Pikes Peak, you should check the weather conditions to make sure things aren't particularly bad. No one wants to get stuck at the summit of a 14,000-foot mountain in the midst of a thunderstorm. And even if it seems sunny, the weather in Colorado can change in the blink of an eye. So please check the weather before going. 
If you don't want to use an online service, you can call 719-385-7325 to check the weather conditions for the highway and mountain. 
This article is owned by Recapture Nature and was first published on September 18, 2019
The Best Time to Drive up to Pikes Peak
If you want to know the best time to drive up Pikes Peak, these guidelines should help you choose the right time of year. 
September to October
September and October are arguably the best months to visit Colorado Springs and Pikes Peak. 
As the temperature starts to drop, so do the hotel rates and number of tourists. Average highs range usually from low 50 to mid 70 degrees in Colorado Springs. Even better, the surrounding areas ‒ including Pikes Peak ‒ turn into a beautiful kaleidoscope of autumn foliage.
November to February
Contrary to popular belief, winters in Colorado Springs aren't all icy when compared to other cities in the state. In general, average high temperatures hover in the 40s. 
The less than ideal snow conditions may also redirect winter tourists to major ski towns like Vail, Telluride and Aspen. That's great news for budget travelers, as the prices for hotels in Colorado Springs will take a significant plunge.
This article is owned by Recapture Nature and was first published on September 18, 2019
March to May
Spring is one of the best times for adventure seekers to visit Colorado Springs and Pikes Peak. 
With average high temperatures ranging from low 50 to high 60 degrees, it's a terrific time of year for hiking. Those who are interested in whitewater rafting will find that the snow melts quickly in spring, making rafting a great choice of activity. And since the summer travelers have yet to arrive, you can expect great spring bargains on hotel rooms in Colorado Springs.
June to August
Colorful festivals and warm weather make summer the peak tourist season in Colorado Springs and Pikes Peak. Temperatures average in the high 70 and low 80 degrees in Colorado Springs, making summer ideal for tourists looking for warm outdoor adventures
However, you aren't the only one planning on taking advantage of the beautiful Colorado summer days. Expect prices for hotel rooms to skyrocket, and get ready to fight the sea of crowds who are also looking to take the perfect Pikes Peak photo.
Other ways up Pikes Peak
If you don't feel like driving, here are some alternative ways to reach the summit of Pikes Peak. 
Hiking
There are a number of hiking trails within the Pikes Peak region. There is, however, only one trail that will take you all the way to the summit ‒ the popular Barr Trail.
This hike isn't easy, even for seasoned hikers. It's 13 miles each way, and climbs a whopping total of 7,400 vertical feet until you reach the peak's 14,115 foot summit.
Due to the altitude and hike, this hike is not for everybody. Technically, it's rated as Class 1, which is hands down the easiest rating for a fourteener ‒ which is a peak in the Western United States with an elevation of at least 14,000 feet.
Depending on your speed, the hike up to Pikes Peak via Barr Trail will take six to 10 hours. If you want to break up your trek into two hiking sessions, you can camp overnight at Barr Camp. Make sure to book your spot well in advance though ‒ the campsite gets a ton of campers and visitors, especially during the summer months. 
Pikes Peak Cog Way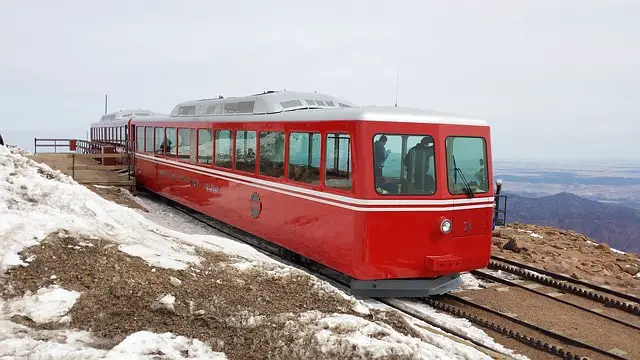 The highest cog railway in the world has been chugging up Pikes Peak since 1891. If you've got small children with you, this method of getting up the mountain is probably your best bet. 
This article is owned by Recapture Nature and was first published on September 18, 2019
Unfortunately, the Pikes Peak Cog Railway has been temporarily shut down. It's currently undergoing a major renovation, and will reopen in 2021.