Mount Mitchell is a nature lover's dream. 
With an elevation of 6,684 feet above sea level, this iconic mountain is the undisputed highest peak east of the famed Mississippi River. As you explore this North Carolina mountain, you get to soak up some fresh mountain air and savor awe-inspiring views in every direction. 
From families to hardcore outdoor connoisseurs, there's something for everyone around this renowned mountain. Mount Mitchell is surrounded by a plethora of exciting activities and attractions for all ages. 
To help you craft the ultimate getaway here, we've rounded up some of the best things to do on and around Mount Mitchell.
Hike Mount Mitchell
There's no better way to see and experience the mesmerizing natural beauty of Mount Mitchell than to hike its postcard-worthy trails. Not only will it reward you with jaw-dropping panoramic views, but you'll also get to discover the animals and plants that make Mount Mitchell State Park unique. A hike in this park will bring sights of peregrine falcons, black bears, white-tailed deer, mountain ash trees, and red spruce.
With its high elevation and extraordinary environment, Mount Mitchell hikers sometimes feel like they have ventured into Canada's boreal forests instead of the Appalachians. 
The trails in Mount Mitchell State Park range from easy to strenuous. Here's a list of the trails you can take to the summit of Mount Mitchell.
Balsan Nature Trail: Easy (0.75 miles)

Commissary Trail: Easy (1 mile)

Deep Gap Trail: Strenuous (4.5 miles)

Mount Mitchell Trail: Moderate to strenuous (5.6 miles)

Old Mitchell Trail: Strenuous (2 miles)

Summit trail: East (0.1 mile)

Camp Alice Trail: Moderate to strenuous (0.5 miles)
Important notes:
Most of the trails in Mount Mitchell are connected to the U.S. Forest Service's land trails, creating excellent opportunities for backpacking or extended day hikes.

Don't forget to carry a jacket when hiking Mount Mitchell. The summit is usually 10 to 30 degrees cooler than Asheville.

Make sure to pack your day hiking essentials, and carry plenty of drinking water.
Bird Watching
Over the years, visitors have seen more than 90 different bird species on their visit to Mount Mitchell State Park. Once you reach the summit, you'll find an observation tower where visitors can feast their eyes on falcons, winter wrens, and ruffled grouse. For a memorable bird watching experience, bring a camera and binoculars.
Check out the Museum and Gift Shop at the Summit
Even with its steep elevation, Mount Mitchell is amazingly home to a fascinating museum. 
Inside the Mount Mitchell museum, you'll find exhibits that will give you more information about the mountain and the state park. With its captivating displays, the museum will let you see how tall this mountain is when compared to the other nearby Appalachian mountains.
You'll also learn more about the person who helped discover this mountain, as well as the animals, geology, and types of rock that can be found in the area
After your visit to the museum, head to the nearby gift shop at the summit of Mount Mitchell State Park. Here, you'll find a variety of crafts and books that you can buy for yourself or a loved one back home. Before you leave, you can also enjoy a quick snack inside the Mount Mitchell gift shop.
More information:
Museum opening times: 10:00 AM to 06:00 PM from May to October

Gift shop hours: 10:00 AM to 06:00 PM from May 24 to October 31
Drive the Blue Ridge Parkway
No list of things to do around Mount Mitchell is complete without a drive on the Blue Ridge Mountains. After all, it is the best and most scenic way to reach the entrance and summit of Mount Mitchell State Park. Furthermore, there are many picturesque overlooks where you can park, snap pictures or even hike a trail.
The most notable landmarks on this drive include the summit of Mount Mitchell, Linville Falls, Skinny Dip Falls Trail, and Craggy Gardens Trail.
Pay a visit to the Biltmore Estate in Asheville
Built by the Vanderbilt family in 1895, the Biltmore is the country's largest privately-owned estate and is located on an 8,000-acre tract. With a visit to this large estate, you get to tour the grounds and the house's numerous rooms. 
Even if you're not fond of historic homes, you'll still likely enjoy Biltmore for the sheer grandeur of the place. The house is a beautiful throwback and a tribute to the Gilded Age, a bygone era in the United States. It contains rich wood tapestries, priceless tapestries, and magnificent rooms that will remind you of a European castle.
Touring the whole mansion usually takes an hour or two. But because you're on a sprawling estate, you should block off at least 3 hours to maximize your visit. You can also enjoy a premier tour of the mansion to see views and rooms that are not included in the general tour. From there, you may cap off your visit on a high note by walking the picture-perfect grounds.
More information:
Address: One Lodge Street, Asheville, North Carolina, USA

Opening times (main hours): 08:30 AM to 06:30 PM daily

Contact number: 800-411-3812
Take an Asheville Brewery Tour
Asheville holds the honor and title of having the most breweries per capita in the US. You can hit every brewery individually, or take a multi-brewery tour. 
Make it a point to visit the most beloved breweries in Asheville, including New Belgium Brewing, Sierra Nevada Brewing Company, and Highlands Brewing Company.
Experience the Thrills of Navitat Canopy Adventure
Add a heavy dose of adventure to your Mount Mitchell getaway by visiting Navitat Canopy Adventures in Barnardsville. Navitat offers an array of one-of-a-kind outdoor tours, such as guided RTV shadow tours, mountaintop tours, and treetop tours. 
Besides the adrenaline rush, these tours give you a beautiful preview of the Appalachian Mountains as well.
More information:
Address: 242 Poverty Branch Road, Barnardsville, North Carolina, USA

Contact number: 828-626-3700
Summit Lookout Mountain
Lookout Mountain has a couple of summits. When people say they are climbing Lookout, they usually are referring to Little Lookout, which is the mountain's rocky southwest summit. The overall elevation of Little Lookout is 3,621 feet.
The higher summit, Big Lookout, stands at 3,760 feet and does not get a lot of visitors. And unlike Little Lookout, the top is relatively wooded.
There are three trails available on Lookout Mountain – Lookout Trail (Lookout Trace), Loop and South Side.
Have a Picnic
Traveling with the whole family? Why not enjoy a mile-high picnic at the summit of Mount Mitchell? 
Open year-round, the shady picnic area is nestled at the north end of the peak's parking lot. There are stone grills, 40 picnic tables, and drinking water supply available at this area. It also has a couple of picnic shelters with handy fireplaces. Every shelter typically accommodates around 12 to 16 people. Unless reservations are requested, you can use any of the shelters for free.
Hit the Asheville Urban Trail
Looking for more free things to do around Mount Mitchell State Park? Weaving through Asheville's downtown area, this 1.7-mile long urban path takes visitors through the city's architectural and cultural history. Created to highlight Asheville's unique past, the trail has 30 marked trails, each with a public sculpture capturing an important moment or person in the history of the area.
The self-guided tour is divided into five eras, starting from the Gilded Age and ending with the modern Age of Diversity. This urban trail begins at Pack Square and circles around the city's downtown area. 
Afterward, the trail will lead you back to the square, where you can see the last bronze statue of the journey.
Those who want to explore all the trail's 30 landmarks must set aside about a couple of hours. Even if you don't explore the whole path, you'll still see a statue or two during your trip to the downtown area.
Visit the North Carolina Arboretum
Set within Pisgah National Park, this 434-acre arboretum should be on everyone's to-do list, especially those who have green thumbs. 
In this floral nirvana, visitors can explore more than 60 acres of gardens, including the Bonsai Exhibition and National Native Azalea Collection. The Arbotoreum is home to a heritage garden that celebrates the horticulture of the Southern Appalachian. For outdoor enthusiasts, the arboretum also boasts over 10 miles of biking and hiking trails.
Kids will have a blast wandering through these gardens as well. As they explore the North Carolina Arboretum, they may take part in an array of youth activities, like hands-on lessons from the resident box turtle, Shelly.
Check out the Western North Carolina Nature Center
Are you a bona fide animal lover? Then make sure to include a stopover to the Western North Carolina Nature Center on your Mount Mitchell visit.
Home to more than 60 animal species, the nature center allows you to get an up close look of cougars, red wolves, black, bear and river otters.
The center also connects people with the plants and animals of the Southern Appalachian region by nurturing understanding, inspiring appreciation, and advancing conservation of the area's rich biodiversity.
The Western North Carolina Nature Center is proud to be accredited by AZA (Association of Zoos and Aquariums). This distinction means it's a first-class nature center dedicated to providing the best animal care.
More information:
75 Gashes Creek Road, Asheville, North Carolina, USA

Opening times: 10:00 AM to 05:00 PM daily

Contact number: 828-259-8080
Visit The Historic Carson House
There's nothing quite like the Historic Carson House. Nestled in Blue Ridge's foothills, this historic place is a moment frozen in time and a beautiful depiction of the history of McDowell County, North Carolina. 
Built in the late 18th century, this two story mansion offers a walk down memory lane. It highlights the Carson clan's experience during the North Carolina Gold Rush, the Civil War, and the Revolutionary War.
More information
Address: 1805 US-70, Marion, North Carolina, USA

Opening times: Open from April to November. 10:00 AM to 04:00 PM
from Wednesday to Saturday. 02:00 PM to 05:00 PM on Sundays.

Admission fee: $7. Free for kids 12 years old and below

Contact number: 828-724-4948
Camping in Mount Mitchell State Park
Surrounded by national parklands, a state park, and a national forest, Mount Mitchell offers campers a rustic and soothing experience. Open from May 1 to October 31, the park's small family campground has nine sites for tent camping. Each campsite has a picnic table and a grill. Nearby restrooms are available during the warm season. Hot water and showers aren't provided in these areas, though.
Drop by Folk Art Center
Drawing 250,000 visitors every year, the Folk Art Center is one of the most popular spots along the Blue Ridge Parkway. 
Inside the art center, you'll discover contemporary and traditional crafts displayed in a trio of galleries. It's also home to a library, a parkway information desk, a bookstore, and the Allanstand Craft Shop, which is the oldest of its kind in the country. 
From March to December, the Folk Art center hosts daily craft demonstrations and special events featuring the materials used in most Southern Appalachia crafts.
More information:
Address: Milepost 382 Blue Ridge Parkway, USA

Opening times: 09:00 AM to 06:00 PM daily

Contact number: 828-298-7928
Explore Vance Birthplace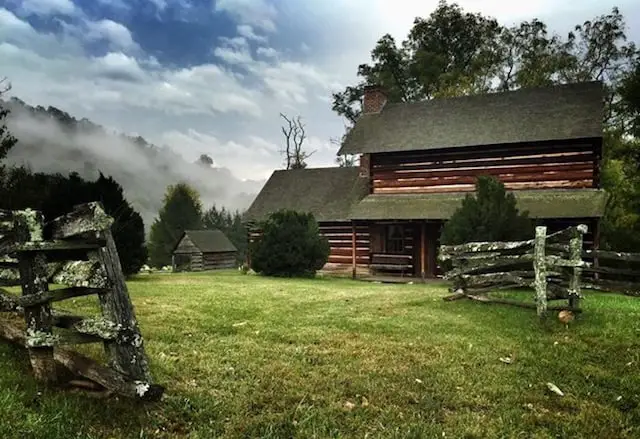 Built in 1955, this North Carolina State Historic Site serves as a memorial to the U.S. senator and North Carolina's Civil War governor, Zebulon B. Vance. 
The site, which is located where the US senator spent his childhood, is a beautiful representation of an early 19th-century farmstead. The Vance Birthplace consists of a visitor's center and a five-room, two-story house reconstructed around the original chimneys.
More information:
Address: 911 Reems Creek Road, Weaverville, North Carolina, USA

Opening times: 09:00 AM to 05:00 PM

Contact number: 828-645-6706
Stroll River Arts District
When artists arrived in Asheville to enjoy its free-spirited charm and natural beauty, they had to find roomy spaces to unleash their creativity. Luckily, they developed the River Arts District. 
This area, which is made up of 22 historical and industrial buildings, is designed to keep Asheville's art scene booming and alive.
Tourists can stroll around the colorful district to see works from over 200 artists in a variety of mediums, like jewelry, photography, paintings, ceramics, and textiles. It's also a great spot to pick up a one-of-a-kind souvenir after your getaway in Mount Mitchell State Park.  
See the Craggy Gardens
Rocky, jagged crags give Craggy Gardens its unique name. But these high elevation peaks are also home to the most spectacular floral displays along the Blue Ridge Parkway. 
Visitors typically go to the Craggy Gardens in June since it's the best time for viewing the purple and pink blooms of the Catawba rhododendrons blanketing the area.
Can't visit the Craggies in June? That's okay. Turk's cap lily, May-apple, blackberry, and violets burst with color in this beautiful, high-altitude portion of the Blue Ridge Parkway.
Aside from admiring the blooms, there are a few other things you can do in this region. For one, you can enjoy a picnic while savoring its natural beauty. If you're feeling a little adventurous, take a short hike on the Craggy Pinnacle trail and be enthralled by a 360-degree-view of forested slopes and seemingly endless mountains.
Be Wowed by the Towering Crabtree Falls
For a refreshing adventure near Mount Mitchell, head to Burnsville and enjoy the therapeutic charm of the Crabtree Falls. 
Standing at 60 feet and boasting a rejuvenating environment, this cascade is indeed a thing of beauty. And the hike is pretty quaint too, passing by a footbridge, a meadow, a stream, and rough woodland. 
Chase More Waterfalls
Crabtree isn't the only eye-catching and refreshing waterfall near Mount Mitchell. There are quite a lot of waterfalls you can explore on your Mount Mitchell trip. If you don't have enough time to explore all of them, just visit the two nearest waterfalls in the area – Pisgah National Forest's roaring Fork Creek Falls and the Setrock Creek Falls.
Tour the Linville Caverns
Experience a tour like no other by venturing into Linville Caverns. Even though the tour is just 30 minutes, it's jam-packed with otherworld sights, including hundreds of stalactites and stalagmites, and incredible rock formations. 
It also flaunts a crystal-blue, bottomless pool that reaches over 200 feet below the cave, and a sandbar that once served as a home to Civil War deserters.
If you go on this tour, you'll be accompanied by a tour guide who will share loads of information about the caverns and its intriguing history.
More information:
Address: 19929 US-221, Marion, North Carolina, USA

Opening hours: 09:00 AM to 04:30 PM on Saturday on Sunday from December to February. 09:00 AM to 05:00 PM on October, September, May and April. 09:00 AM to 06:00 PM on August, July and June. 09:00 AM to 04:30 PM on November.

Contact number: 800-419-0540

Admission fee: $8.50 for adults. $7.50 for seniors (62 years old and above). $6.50 for children 5 to 12 years old. Free for children for kids 5 years old and below.
Explore Cradle of Forestry
Don't miss the opportunity to see one of North Carolina's best-kept secrets – the Cradle of Forestry. 
Founded in 1898, the Cradle of Forestry was once home to the fascinating Biltmore Forest School. Today, it is a popular heritage site that offers tons of activities for visitors to take part in. 
Here, you can explore its photogenic grounds as well as see the historic buildings and top-notch exhibits of the first ever forestry school in America.
After touring the grounds and historic buildings, you can go inside the Forest Discovery Center and watch an informative documentary. Kids will also have a blast riding the firefighting helicopter simulator.
When the tour is over, head to the Café and the Cradle – the only restaurant in this well-known section of Pisgah National Forest. Once there, feed your grumbling stomach by picking from a delicious food combination of salads, soups, and sandwiches.
More information:
Address: 11250 Pisgah Highway, Pisgah Forest, North Carolina, USA

Opening times: 09:00 AM to 05:00 PM from Spring to Fall

Contact number: 828-877-3130
Tour Emerald Village in Little Switzerland
Take a short drive from Mount Mitchell to Little Switzerland and see the fabulous Emerald Village. 
With its breathtaking mountain setting, the village will surely unleash your inner shutterbug. This tourist spot is also home to a dozen genuine mines and has been featured in several prestigious magazines and television programs. Some of the more prominent examples include the Travel Channel and National Geographic TV.  
There are a lot of amazing things to do in Emerald Village too. For one, you can take an underground tour of the beguiling Bon Ami Mine. If a trip underground doesn't suit you, you can visit the North Carolina Mining Museum to dive deeper into the area's mining history instead. 
You can also go on a shopping spree at The Gemstone Mine, where gems are sold at bargained prices.
This article is owned by Recapture Nature and was first published on September 25, 2019
More information:
Address: 331 McKinney Mine Road, Little Switzerland, North Carolina, USA

Opening times: 09:00 AM to 05:00 PM on Saturday and Sunday

Contact number: 828-765-6463
Visit the Learning Center at PARI
Fond of science and space? You'll certainly have a swell time delving into this hidden space center in Pisgah National Forest. Known formerly as Pisgah Astronomical Research Institute, this complex was developed initially in 1962 by NASA to monitor space flights and track satellites in the east coast. Today, it's a world-class, non-profit education research center with massive radio telescopes, attracting both acclaimed scientists and curious tourists.
More information:
Address: 1 PARI DR, Rosman, North Carolina, USA

Contact number: +1 828 862 5554

Opening times vary. Contact their telephone to confirm their schedule.
Dine at one of Asheville's top Restaurants
From sophisticated to casual, there are tons of excellent restaurants in Asheville for all tastes. For years, the town has been renowned for its award-winning and chef-driven restaurants. These culinary experiences extend throughout the area, including the surrounding small towns and Biltmore. 
To experience a tasty adventure in Asheville, visit Hemingway's Cuba, Tupelo Honey, Red Stag Grill, or Jerusalem Garden Café.
Experience a Biltmore Winery Tour
A great way to end a perfect day in the Mount Mitchell region is to take a Biltmore Winery tour. Billed as one of America's most visited wineries, the Biltmore Estate Winery offers fantastic wine tasting experiences on their revamped Tasting Room. 
Delightful wines aside, the room also has an expert guide who'll share loads of information on the assorted wine types. And inside the tasting room, you can sample any of its 20 wines, including Merlot, Cabernet Franc, Cabernet Sauvignon, Viognier, Chardonnay, and Riesling.
This article is owned by Recapture Nature and was first published on September 25, 2019
More information:
Address: 1 Lodge Street, Asheville, North Carolina, USA

Opening times: 11:00 AM to 08:00 PM daily

Contact number: 800-411-3812
Spend a Couple of Days Exploring the DuPont State Forest
With a collection of magnificent waterfalls and miles of trails, DuPont State Recreational Forest is an absolute paradise for outdoor enthusiasts. Visitors usually come to hike the three famed waterfalls – the High, Triple, and Hooker Falls. 
But there's more to this nature destination than its cascading wonders, though. You can also take a hike to the summit of Stone Mountain or Cedar Rock to admire the majestic views. Alternatively, you can also go on a horseback riding and mountain biking adventure in designated areas.
Hike Lover's Leap
Get a taste of the mighty Appalachian Trail by hiking an outcropping rock known as Lover's Leap in Hot Springs. Not only will it give you a fun-filled hike, but it also offers an enticing panoramic view of Pisgah National Forest and the French Broad River. While you can finish the loop in an hour or less, spend some time enjoying the vistas on your way up. This hike is ranked as moderate, as it has an elevation gain of 500 feet and a precarious walk on the ridge.   
Play Some Golf at Mount Mitchell Golf Club
Ranked one of the best golf clubs in NC by Golfweek Magazine, this golf haven offers a range of challenges to its guests and players. It also offers spectacular views of a pristine river and eye-catching verdant grass. You can forget the gold – the views themselves are worth the admission.
More information:
Address: 11484 NC-80, Burnsville, North Carolina, USA

Contact number: 828-675-5454
Be a Part of the Area's Lively Festivals
There's no shortage of fun and exciting festivals around Mount Mitchell. Whether you're traveling alone or with your family, the region has a calendar of festivals and events for everybody. 
This article is owned by Recapture Nature and was first published on September 25, 2019
Here's a list of some of the top festivals in the area surrounding Mount Mitchell.
Sweet Treats of the Carolinas Festival

Oktoberfest

Asheville Chow-Chow Culinary Festival

NC Apple Festival

VeganFest

Livermush Festival